Product Description
Thicker fuller hair in minutes.
Kerathik Hair Building Fibers thickens hair with every sprinkle. It's safe and easy to use and provides excellent coverage for any shade of hair, even highlighted hair. Tiny little fibers designed to look like real hair sprinkles down on the hair and fills in around the base of the thinning hair. Giving you the self confidence in knowing you've taken years of your appearance and have a full head of hair again.
Made to resemble real hair that has been precision cut with a laser into tiny micro sized fibers.
Bonds with your existing hair, dramatically building up hair structure and volume
Stays in place in wind, rain and while exercising. All the way until you wash it out with your favorite shampoo
Natural look even in bright sunlight. Ultra light fibers, don't weigh down hair strands
Fragrance free. None irritating to scalp
To ensure that all hair colours are adequately catered for, there are 8 colors:
Black, Dark brown, Medium brown, Light brown, Sandy/dark blonde, Light blonde, Auburn, Grey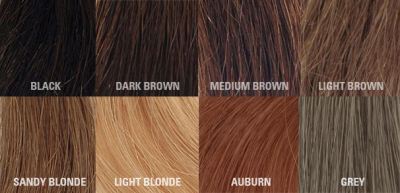 Application
In frontal areas, spread your thumb and forefinger and place your hand on top of the forehead below the hairline to keep stray filaments from falling to forehead and eyes. .
Bend your head so that application is vertical. For long hair apply a layer of keratin fibers, then gently run your fingers through the area to help dispense the filaments
Followed by a few short burst of spray. Then add more keratin fibers, stroke gently then finish with a spray of Kerathik Fiber Lock spray.
Allow a few minutes for Kerathik Fiber Lock spray to dry. Style using a plastic, non-bristle brush or comb
Use Kerathik Hair Building Fibers on dry hair. Use while swimming is not recommended.
Kerathik: Hair Building Fibers (12.5g) was last modified: May 15th, 2014 by