The rays from the sun which reach Australia are extremely strong - much, much stronger than those shining over Europe where much of Australians population came from. Hence natural skin colour protection is completely missing. Aborigines have very dark skin, more suited to the sun in Australia.

Sun damage is cumulative - it builds up over time. One of the first signs of the serious damage is the development of scaly areas called solar keratoses or sunspots. While not cancerous themselves, a keratosis is potentially malignant and should be taken very seriously as a warning that the skin has had too much sun.

The best thing you can do is avoid the strong sunlight of midday. Mechanical or physical protection comes next - get into the habit of wearing a hat with a broad brim and cover yourself with clothing. Use at least SPF 30+ sunscreen with broad spectrum formula as extra protection. Also use zinc cream for small areas that need extra protection such as nose.

Solariums are not safe and have now been closed. Some tanning lotions for fake tan can react with proteins in the skin to produce a brown pigment. They are not harmful, but its vital to remember to use normal sun protection because the "tan" they produce gives no protection whatsoever.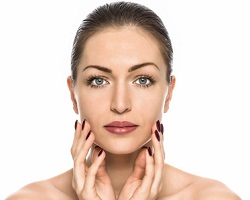 Some drugs have side effects that affect the skin. Some medicines increase photosensitivity, which means more sensitivity to the sun. These include Retin-A, several tetracycline antibiotics and some diuretics.
Exercise and rest considered important factors for healthy glow. Exercise also has specific benefits to the skin. it increases its blood flow, so the blood is doing better job of bringing nutrients, removing waste, carrying oxygen. There are two main ways to ensure you have adequate exercise; being more active on a day-to-day basis - walking the extra bus stop, cycling to the shops, rather than driving, taking stairs instead of lift; or formal exercise sessions that could be any physical sport, dancing or swimming.
Environment, weather and climate has a great impact on the quality of the skin. Mild climate is the best for healthy looking skin.
Air-Conditions can be very drying. It can cause skin flakiness and dehydration.
Stress in another contributor to the skin problem. "life events" especially associated with negative emotions effecting health of the body. Managing stress or least reducing it varies for different people. Some prefer meditation, other massage or practicing pilates or gardening.