CosMedix Purity Balance targets impurities and pore-clogging excess oil.
CosMedix Purity Balance is a vitamin-enriched toner suitable for a number of skin types and conditions.
It's deep exfoliating ingredients like tea tree oil and L-lactic acid form stimulating and at the same time delicate follicle cleansing formula.
Well known as antiseptic, anti-viral, anti-psoriasis skin care product. It also supports skin barrier and brightens the skin.
Exfoliating prep and tonic
Actions: Cleanses - Unclogs - Stimulates
Purpose: Use for all skin in need of exfoliation/revitalization; Acne, photodamage, oily/Rosacea, pre peel
Price: $95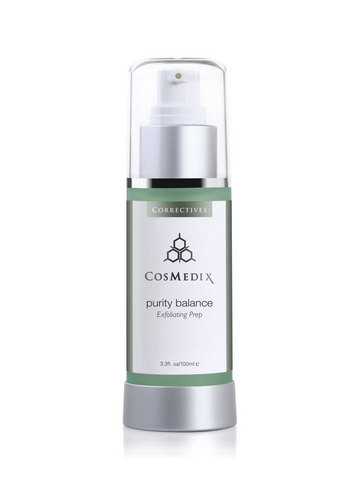 Anti-bacterial
Oil control
Anti-inflammatory
Soothing and cooling
Unclogs hair follicles - can be applied after waxing to prevent ingrown hairs
Dispense a small amount into clean hands and pat onto face, avoiding the eye area. Use any time after cleansing with Benefit Clean or Purity Clean. Follow morning application with a sunscreen.
Active Ingredients
Salicylic Acid - to treat comedonal or non-inflamed acne
L-lactic Acid - wrinkles fighter; resurfaces and renews
Hamamelis Virginiana (Witch Hazel) Extract - treating acne, helps to shrink and contract blood vessels back to normal
Melaleuca Alternifolia (Tea Tree) Leaf Oil - to fight bacterial and fungal infection
Citrus Grandis (Grapefruit) Peel Oil - lymphatic stimulant
Anthemis Nobilis Flower Extract - chamomile - cleaning, moisturizing, covering up blemishes
Indigofera Tinctoria Extract (Indigofera Tinctoria Extractfera Tinctoria)