One of the most common condition of pigmentation disorders, with disturbance in the skin's colour balance is quite often is a slow process to control.
To effectively address pigmentation three sided approach is required in order to
fade the skin discoloration
stimulate continuous melanin production
skin protection from external factors such as sun
MesoScience by Skeyndor Brightening works in all 3 directions by lightening pigmented skins and skin tones in hyper-pigmented areas and clarifying dull, photoaged skins with restoring luminosity to the face skin, leaving the skin radiant and even.
MesoBright facial fundamentals based on principle of Virtual MesoTherapy.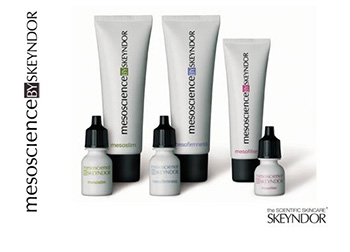 Pigmentation and Brightening Treatment Plans
Depending on the condition of your skin and what result you are trying to achieve you may need anywhere between six and 10 sessions. Maintenance sessions are recommended once every 3-6 months.
Other Conditions to treat
Photoaged skins
Restores luminosity
Radiant and even skin
Skeyndor MesoScience Brightening Summary
Meso-Brightening treatments indicated for pigmented skins. It specially formulated to lighten the skin tone in hyper-pigmented areas.
| | | | |
| --- | --- | --- | --- |
| Condition | Schedule | Cost | Specials |
| Pigmentation | 6-10 sessions; weekly | $199 each | $179 |
Melbourne Skeyndor MesoScience Lightening
Post Treatment Advice
Drink more water every day. It would serve few purposes eg flushing out toxins, as well as keep your skin well hydrated and glowing
Don't disregard Meso-bright maintenance phase
No heat/sun exposure, saunas, jacuzzis, heavy exercise, lymphatic drainage massage for 24-48hrs post treatment