Skin around your eyes
Nothing is more telling of your health or age than the state of the skin around your eyes. Dark circles, puffiness and wrinkles and lines around your eye appear mainly due to the following:
Sun damage and other environmental factors
Poor circulation (including blood and lymph circulation)
Health problems (various conditions worsen the appearance of the area)
Bad diet and/or skin care regime
FACT: It is a widely accepted fact that skin around the eyes must be treated with a different level of delicacy than the rest of your face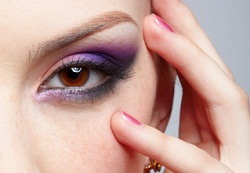 Do eye serums really need to be part of my beauty regime
Quality eye serums can really kick things up a notch when it comes to your skin care regimen. Here are a few reasons why:
More concentrated & potent and offer greater penetration level than their counterparts, eye creams
Serums do not contain heavy oils that most eye creams are based upon. (Oils are common irritants)
Eye serums usually combine powerful ingredients into a highly reparative compound
Quality eye serums dramatically improve the area around the eyes without causing reactions
Great eye serums contain a combination of age fighting, nourishing, and high performing ingredients
Eye serums cause the skin around the eye area to be revitalized and rejuvenated
The delicate eye area feels refreshed and has a more youthful appearance after an application
Due to their luxuriously thin consistency, eye serums quickly sink into the skin and can either be worn alone or layered with a richer eye cream
Professional Strength Under-Eye Medik8 Retinol Eye Serum
Retinol has been shown in several clinical trials to combat common skin-ageing concerns such as facial wrinkles, lines, folds and a loss of firmness by stimulating collagen and hyaluronic acid production.
Retinol has also been proven to improve skin clarity and texture, promote anti-pigmentation plus demonstrate anti-acne and pore-minimizing effects, all leading to a more youthful skin appearance
Retinol Eye TR is a specially formulated retinol serum for use in the delicate under-eye area. Retinol Eye TR melts into the skin and leaves a non-greasy powder dry finish. It does not irritate like regular retinol products because of the unique time-release (TR) formula.
Diminishes the size and depth of wrinkles and lines in under-eye area and the crow's feet
Boosts firmness, plumpness and epidermal hydration under and around the eye
Helps fades under-eye shadows when with Dark Circles/Pretox Eyelift
Helps fade melanin and prevent future hyperpigmentation when used with White Balance
Powder dry finish with no greasiness or tackiness
Novel time release mechanism reduces irritation by gently releasing actives over hours not minutes
Enhanced stability over regular retinol serums. It uses film encaspulation to protect retinol from oxidation
Retinol Eye TR contains 0.1% all-trans retinol supported by vitamin E
How to use Retinol Eye Serum
In the evening use the integrated spatula to apply Retinol Eye TR directly to the under-eye area.
Alternatively, place a drop on your finger and then blend into skin. 1 drop per side is all you need
Apply your hydrator as usual after every application.
If using Retinol Eye TR in daylight, ensure that an SPF hydrator is applied after every use for optimum under-eye protection. Retinol should not be used in direct sunlight
To build up skin tolerance to retinol, allow 3 day intervals between applications for 2 weeks.
Consult with your GP before commencing a retinol regime if pregnant, lactating, undergoing skin peeling procedures or taking prescription medication for acne.
Frequency of use: Apply every 3rd day for the first 2 weeks. Apply every 2nd day from week 3 onwards.