Nikol VCIP, is the star ingredient from Japan. It is a very expensive and stable oil soluble Vitamin C ester which has anti-oxidant activity inhibiting lipid peroxidation, offering outstanding transdermal absorption. Topical use can mitigate the damaging effects of UV exposure.
Nikol VCIP does not exfoliate or irritate the skin making it suitable for sensitive skin.
Serum concentrate
Actions: Stimulates collagen production - Promotes a more even skin tone
Purpose: Reduces pre-mature ageing, brightens the skin by inhibiting melanogenesis (production of pigment)
Price: vitamin c 12% - $105; queen c 20 % - $139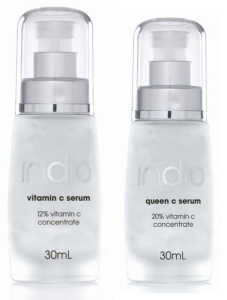 Skin: For all skin types including sensitive. When: Morning
Application: Apply a small amount (half press of pump only) every morning on face and neck after cleansing and toning. Apply with fingertips in gentle stroking movements. Make sure that you apply to the neck as well as the face. Follow with your choice of indio moisturiser.
Active Ingredients
Cyclomethicone - silicone used to deliver smooth, silky texture without oily residue or after feel
Tetrahexyldecyl Ascorbate (Nikkol VCIP) - very stable, oil-soluble Vitamin C ester which has anti-oxidant activity, inhibiting lipid peroxidation.
Glycine Soja (Soybean) Oil - vitamin-rich emollient that absorbs well into the skin. Has a nourishing, softening and moisturising effect on skin.
Carthamus Tinctorius (Safflower) Seed Oil - acts as a lubricant on the skin surface, which gives the skin a soft and smooth appearance. It is also used as a skin conditioning agent
Linoleic Acid - an anti-inflammatory. Aids in acne reduction and has moisture retention properties
Tocopheryl Acetate (Vitamin E) - the most effective form of Vitamin E. An antioxidant that protects cells against damage by free radicals. Anti-ageing, anti-oxidant
Retinyl Palmitate (Vitamin A) - reduces the appearance of wrinkles by stimulating cellular turnover and collagen production