Pouty lips with a noticeable border have often been associated with beauty and youth. Unfortunately, one of the effects of human aging is deterioration of facial fat including the lips. Lips become thinner as we age and we can also develop a mouth frown. Some individuals also develop vertical lines (especially smokers) above the upper lip. The cupid's bow and philtrum also flatten out.
Replacing lips lost volume result in more youthful looking lips
Lip enhancement also involves plumping to add volume, removing the fine lines around the mouth and returning lost definition around the lip border. The procedure to enlarge lips can also reduce the fine lines and wrinkles above the top lip, flaws often referred to as "smoker's lines."
Lip augmentation substances
Due to restrictions from the TGA, the actual name and brand of some dermal filler cannot be revealed here, short names are used instead to differentiate filler types
Temporary Injectables
Hydration fillers, a non-animal, reported to be very close to the substances found naturally in the body. Usually lasts six months and, sometimes, longer.
Clear gel filler is extremely chemically close to hydration fillers but is actually more concentrated; many surgeons report the former is slightly smoother to inject.
Radiesse, this type of filler is designed to give a firmer and longer lasting result than the other temporary fillers by creating a natural scaffolding around which natural collagen is formed. Calcium based particles encased in a gel filler are injected to fill depressed areas, enhance contours of the face or enhance lips.
Permanent Fillers
Permanent filler® is poly-implants are made from a polymer that holds moisture. This type of product has been used in medicine and agriculture for decades
The benefit of an injectable is the volume it can give the lips. The poutiness it imparts is significant compared to the implants, which give a more subtly defined lip. The downfall is you really need an experienced injector. This is imperative, especially with the permanent products.
Who is a Candidate for Lip Enhancement?
If you are in great physical and emotional health, have reasonable expectations, elastic skin and no previous existing medical conditions, you may be a candidate for lip enhancement.
To qualify you need to go through consultation with our qualified medical professional, which also going over your medical history, examining your lips and skin and what you want to achieve with your lips.
Remember we only can enhance the form of your lips, make more defined, and reduce the fine lines and wrinkles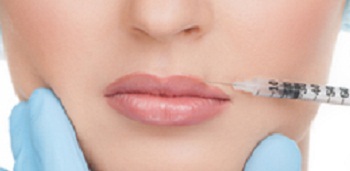 Indications for Lip Enhancement
Some indications for lip enhancement include
small, deflated lips
asymmetry
reconstructive needs
drooping or sagging upper lip
lack of color
wrinkling from smoking and/or aging
Contraindications
The following medications and certain existing medical conditions, may be contraindications for lip enhancement procedures: •
Use of accutane for six months prior or following the procedure. Accutane may increase your chances of keloid-like scarring.
Connective tissue disorders
Lupus (for those seeking bovine collagen)
Active diseases, including diabetes, may affect outcome or increase risks.
Problems with clotting
Excessive oral plaque or dental abscesses
Oral herpes

Injectable lip enhancement procedure
Injectables lip enhancement is the procedure of strategically injecting dermal fillers into parts of the lip and surrounding lip areas to enhance, shape, or add volume to the lips and reduce surrounding wrinkles
To minimise discomfort, a topical or local anaesthetic can be applied.
The dermal filler is then injected into the different parts of the lips.
Minimal down time is needed with these injections. Most people return to their normal activities immediately after the Lip Enhancement. Bruising is possible
Lip augmentation Summary
Conditions that would benefit
Dermal Fillers Cost

Vermilion border to enhance lip contour & definition
Lip body to create pout look
Correction of vertical upper lip lines
Corners of the mouth - turns corners of lips upwards
Philtrum - two lines in the centre of the upper lip that connects to the nose.
Give the upper lip more shape and curve, enhancing the sensuality of the lips
Cupid's bow, or the V shaped area in the centre of the upper lip. Makes the V more pronounced

Temporary Injectables

In most cases, lip enhancement will require 1 syringe
Results generally last for at least 6 months
cost $500-$1000 depending on filler type

Permanent Injectables

Results generally last for a year
Cost from $1400
Enhance your lips so that they look sexier naturally