Whether your need is to rejuvenate your skin, smooth out wrinkles or enhance your facial contours or lip line dermal fillers
make you look your absolute best
It's safe, quick to administer and provides instant and long-lasting aesthetic results.
The results can be seen practically instantly. The non-surgical treatment gives your lovely softening of lines with minimal downtime so you can get on with living life to the full.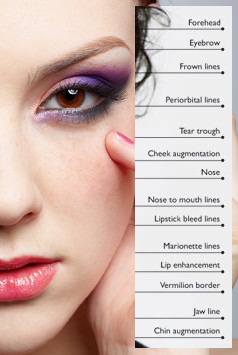 Injectabe gel fillers were developed and produced by the Swedish biotechnology company QMed AB, with headquarters located in Uppsala, Sweden, and offices all around the world. QMed conducts continuous research and development programs and keeping safety and quality of the product at the top of their priority list.
Millions of people have used world's most widely used aesthetic injection treatments. You will find a wide range of possibilities to boost your appearance – from lip enhancement to skin rejuvenation – with results that are as unique as YOU are.
Its is an excellent comprehensive procedure to overall facial rejuvenation. It can be used alone or in combination with skin care from home treatments to IPL skin rejuvenation.
What Fillers treat?
Upper face
1. Frown lines

2. Worry lines

3. Eye brow
Middle face
4. Crow's feet

5. Tired eyes

6. Nose

7. Cheek augmentation by natural cheek enhancement and adding volume
Lower face
8. Nose to mouth lines - marionette lines

9. Smoker's lines smoothing away

10. Lip line

11. Smile lines

12. Sad mouth corners

13. Lip enhancement

14. Chin augmentation eg getting more pronounced chin, adding volume to the chin
Skin Rejuvenation
Face
Décolletage and neck
Hands
Dermal Fillers
SAFETY INFORMATION
The family of products is available only through a licensed medical practitioner.
The family of products should not be used by people with previous bad allergies, particularly to certain microorganisms known as gram-positive bacteria; by people with previous bad allergies to drugs who have required in-hospital treatment; or by people with bleeding disorders.
Injections should not be made anywhere except the skin or just under the skin.
Should not be used by people with a known allergy to anaesthetic.
To avoid bruising and bleeding, you should not use any products in the family if you have recently used drugs that thin your blood or prevent clotting
Use of products in the family at the site of skin sores, pimples, rashes, hives, cysts, or infection should be postponed until healing is complete. Use of the products in these instances could delay healing or make your skin problems worse.
After your treatment, you might have some swelling, redness, pain, bruising, and tenderness. This will normally last less than seven days. In rare circumstances, the doctor may inject into a blood vessel, which can damage the skin. Although rare, red or swollen small bumps may occur. If you have had facial cold sores before, an injection can cause another outbreak.
If you are pregnant, breastfeeding, or under 18 years of age, you should not use products in the family.
Patients should be limited to 6.0 mL per treatment.
The Australian Therapeutic Goods Administration (TGA) Guidelines do not allow the use of specific medical product names on the internet. Therefore all references on this site refer to approved headings of anti-wrinkle injections, dermal fillers and lip enhancement.

The practice uses only the highest quality and safest products available.

For further details on the exact treatments performed by our practice please contact us on (03) 9530 9800
Dermal fillers products
These products can be used individually to add volume and fullness to the skin to correct moderate to severe facial wrinkles and folds and groove, such as the lines from your nose to the corners of your mouth (nasolabial folds).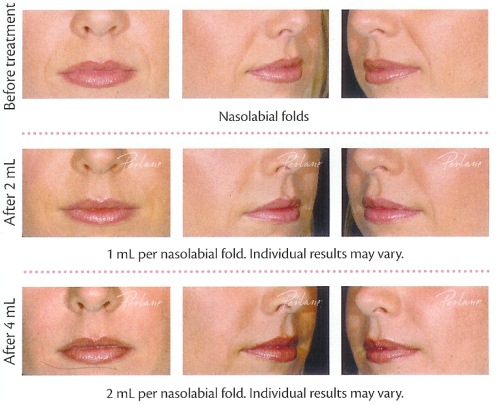 What makes one dermal filler product different to other is the average size of the particles and the depth of injection. On average, the gel particles in one product are larger, which makes product a good choice for wrinkles that benefit from a deeper injection into the skin eg implantation into the deep dermis to superficial subcutis.
Have you already been treated with injectable gel fillers?
Schedule no obligation appointment with a doctor to determine if fillers are right for you.
Its naturally biodegraded, you will eventually need to repeat the treatment to maintain the result. Return visits are typically made after 6-12 months for wrinkles and within 6 months for lips.
Treatment Guide
Before Injection
Avoid using aspirin, nonsteroidal anti-inflammatory medications (such as ibuprofen), St John's wort, or high doses of vitamin E supplements. These agents may increase bruising and bleeding at the injection site.
Before treatment, the practitioner will discuss pain relief with you. As every person has different preferences and sensitivity, it's available both with and without integrated pain-relief. Depending on which area you will have treated you will also have a choice of other anesthesia, such as anesthetic cream, dental block or ice.
Res Treatment
A treatment with dermal fillers only takes about 15-30 minutes. It is performed by injecting through a fine needle into your skin (or for some treatments just under) to fill wrinkles or add volume, shape your face or lips or rejuvenate your skin.
Treatment does not affect facial expression and the benefits can normally be seen instantly
After Injection
After treatment you will receive post-treatment guidelines. It is normal to experience some post-treatment discomfort, such as redness, swelling, pain, itching, bruising or tenderness at the treatment site This typically subsides after a few days, up to one to two weeks.
Use cold compresses to reduce swelling.
Avoid touching the treated area for the first six hours following treatment, so you do not accidentally injure your skin while the area is numb. After six hours, the area can be gently washed with soap and water.
Avoid exposure to intense heat (sun lamp or sunbathing) or cold.
Reduce the risk of facial cold sore recurrence that could be caused by needle punctures.
Avoid taking aspirin, nonsteroidal anti-inflammatory medications, St John's wort, or high doses of vitamin E supplements for one week after treatment. These agents may increase bruising and bleeding at the injection site.
Following treatment, there is sometimes a need for a touch-up treatment to achieve an optimal result.
FILLER FACTS
By replenishing the skin's supply of HA, it rejuvenates and adds volume to the skin, instantly diminishing the appearance of lines and wrinkles, and giving a natural softer look.
Soft injectable gel consisting of stabilized, non-animal gel. The gel is tissue-friendly and closely resembles that exists naturally in the body.
One of the great advantages of those filles is that the effects are long lasting but not permanent. Duration depends on many factors, such as the individual's skin type, lifestyle and age.
After the initial treatment, follow-up sessions are normally recommended around every 6 to 12 months depending on the individual and the treatment. A treatment of the lips lasts about 6 months.
Injections Clinical Studies
In a clinical study of laugh lines (nasolabial folds), at least 95% of patients treated with filler continued to see results for up to 18 months after initial treatment when patients returned for a follow-up treatment at 4.5 or nine months.

The results of the live blinded evaluator assessment of wrinkle severity for fillers and control, 93% of the treated NLF maintained at least a 1 point improvement over baseline.

In three clinical studies of 150 patients each, on average 70% of patients maintained improvement for six months after just one treatment.